Residential Locksmith London, ON
You come home from a long day at work. You reach for your keys but they're nowhere to be found. What do you do? You call D&L Locksmith London, Ontario to safely get you in your home in no time. With 50 years of professional locksmith experience and service in London, Ontario and the surrounding London areas, our technicians are experienced, reliable, efficient and professional locksmiths for all of your residential locksmith London, Ontario security needs.
Our teams of licensed locksmiths and security technicians diligently follow the latest features for commercial security to ensure they can offer the best options available. We install, program, and maintain high-end security systems from the best brand names in the industry, including ASSA, Weiser, Medeco and Schlage. We stand by the names that offer the very best in security.
Our locksmith technicians are available in 24-hour windows and are provided with up-to-date tools and technology to provide you with the peace of mind knowing that our fast response time and residential locksmith services don't just meet your security expectations but exceed them.
At D&L Locksmith, we provide emergency residential locksmith services to your home or business in the London, Ontario area as we are always available, with our 24-hour emergency locksmith service and we're available 7 days a week, rain or shine, even on holidays. Our locksmiths understand how important it is to secure your home and keep your family and belongings safe. The locks on your doors are the first line of security and defence against intruders entering your home.
For additional layers of defence, we offer key-control systems — a system of key control includes strategies for keeping track of which keys are carried by which people, as well as strategies, to prevent people from giving away copies of the keys to unauthorized users — and non-duplicate keys. We promise that our residential locks are bump-proof, pick-proof, and drill-proof, so you can rest easy knowing that your home's doors are defended and secure.
For residential lock needs, we offer to rekey, lock repairs, and complete lockset replacement of most brands — if we don't have your brand, our expert technicians will be more than happy to provide you with suitable alternatives. We also offer installations of deadbolt locks, intercom systems, Closed-Circuit Television (CCTV) camera systems, keypad locks and biometric locks (a biometric door lock—or a smart lock— is a device that allows you to unlock your door with the combination of a fingerprint and PIN). So, no matter your security needs, our residential locksmith services have got you covered.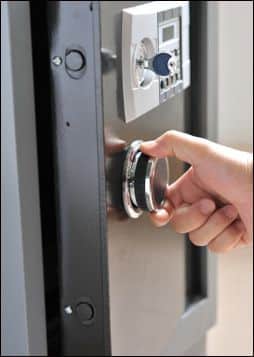 House Lockout Service
Lock Replacement
Lock Repairs
Deadbolt Locks Installed
Mortise Locks
High-Security Locks
Door Knobs Installed
Storm Door Locks
Screen Door Locks
Hotel Locks
Mailbox Locks
Garage Locks Installation
Unlock Safes
Rim Cylinders Installed
Rekey Locks
Lock Changing Service
How Much Is The Average Cost For A Locksmith?
The average cost for a locksmith in Ontario ranges based on what service you require. If you wanted a new set of keys, it will only cost you starting at about $10 or if you want a copy of a key made, the price could be even less. If you require 24-hour locksmith emergency service, the average cost ranges from $100-$200 depending on the kind of lock you have and other security issues that may be present. The average hourly rate ranges from $50 to $100. For a more accurate price, give us a call for a free estimate of our services tailored to whatever you may need: your security is our top priority.
Call us today to learn more about the services we offer ranging from a quick lock change to emergency locksmith services. Our business goal is to help you get the best residential locksmith service and solution fit for whatever you need. We are a 24-hour locksmith business operating out of London, Ontario providing locksmith service to both London, Ontario and the surrounding London area.
You can call us by phone at (519) 686-2870 to learn more about our 24-hour services and so that we can get help to you in your time of need or learn about the residential locksmith services we offer because your business deserves to get the same attention and service that you need to feel secure in your place of work.