Professional Commercial Locksmith In London, Ontario
So, you've been locked out of your place of business. Let's say it's early in the morning and London, Ontario has not yet woken up. What do you do as a business owner when you get locked out? You call D & L Locksmiths located in the heart of London, Ontario! Get professional commercial locksmith services round-the-clock, including holidays, in London and nearby areas. Trust us to assist you, even during late hours. Count on us to arrive at your location with the latest tools and technology. Our quick response time ensures fast restoration of access to your commercial and residential properties. Rest assured, our reliable emergency locksmith services focus on your peace of mind. With 50 years of industry experience, we'll safeguard your assets efficiently, affordably, and professionally
What Can D & L Locksmith, London Do For You?
Your safety is our top priority, which is why when our locksmiths arrive at your place of business we always ensure we provide you with an appropriate solution for your commercial security needs and concerns.
We ensure the security of your property through a simple process. Our locksmiths will discuss your needs, create a plan, and install the best security upgrade option from a range of top technologies available in the market.
24-Hour Emergency Locksmith Services
D & L Mobile Locksmith is your emergency commercial locksmith service in London, Ontario, and the surrounding area. We are available to provide quality customer service 24 hours a day, 7 days a week, and 365 days a year.
Our mobile commercial locksmiths are fast, efficient, and reliable and will help you immediately. We can open any apartment, home, or office door, fix any damage and replace locks.
Security Systems and Devices
Our 50 years of working as a commercial locksmith service have provided us with experience in a variety of commercial security systems throughout London, Ontario, and the surrounding London area including door knob locks, deadbolt locks and biometric locks, intercom systems, keypad systems, and closed-circuit television cameras (CCTV).
We also work with mortise cylinders, rim cylinders, door closers, push bars, panic bars, rolling gates and locks, and fire exit devices. Don't forget we also install and repair fireproof safes!
We offer further security by providing 30 levels of master rekey systems with non-duplicate keys for high security. You can rest easy knowing that our high-security locks are bump-proof, pick-proof, and drill-proof.
Our Commercial Locksmith Services Include: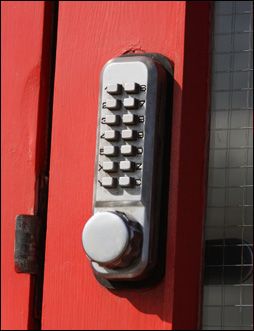 Door closer installation

Panic bar installation

Exit devices

Card reader locks

Combination locks

Commercial lever handles

Digital locks

Adams RITE locks

Mortise lock installation

Entry locks

Keypad locks

Replacement of mailbox locks

File cabinet lock installation

Rim cylinders

Deadbolt locks

Lock changing

Lockout assistance
Systems For Limiting Access
A biometric scan or access card are examples of identifiers that can be used with an access control system to fulfill your security needs. They can assist to track, analyse, and offer vital data on how your facilities and office properties are accessed. They are often keyless. Our expert locksmiths work hard to understand your needs if you want to enhance your security systems. We can offer a solution to maximize the protection of your facility, your clients, and your staff.
How Do I Choose The Best Locks To Keep My Business Secure?
The type of lock best suited to maintaining the security of your business will depend on the nature of your business, as well as the types of attacks against which you want to be protected. For many businesses, a high-quality mechanical lock is sufficient to maintain the security of your business while being durable and easy to use.
How Fast Can A Commercial Locksmith Replace My Locks After A Break-in?
Depending on the type of locks that need to be changed, it typically takes a professional commercial locksmith 15-30 minutes to change each lock. If you have suffered a break-in, you may want to change all exterior locks, as well as consider upgrading other security solutions such as an electronic access control system.
Installation of a lock by a pro requires less than two hours. Depending on your experience with the required tools, doing it yourself will require a similar length of time. Since all that needs to be done to replace a deadbolt is to swap out the hardware, the procedure may be completed in 15 to 30 minutes.
How Much Is The Average Cost For A Commercial Locksmith?
The average cost for a commercial locksmith service in Ontario ranges based on what service you require. If you want a new set of keys, it will only cost you about $10 or if you want a copy of a key made, the price could be even less.
If you require a 24-hour commercial locksmith emergency service, the average cost ranges from $100-$200 depending on the kind of lock you have and other factors that may be present. The average hourly rate ranges from $50 to $100. For a more accurate price, give us a call for a free estimate tailored to whatever you may need.
Give us a call to learn more about the services we offer ranging from a quick lock change to an emergency service. Our business goal is to help you get the best commercial locksmith services and solution fit for whatever you need.
We are a 24-hour local commercial locksmith business operating out of London, Ontario providing commercial locksmith services to both London, Ontario, and the surrounding London area.
You may call us by phone at (519) 686-2870 to learn more about our 24-hour services so that we can get help to you in your time of need.