Commercial Locksmith London Ontario
So, you've been locked out of your place of business. Let's say it's early in the morning and London, Ontario has not yet woken up. What do you do when you get locked out? You call D & L Locksmiths located in the heart of London, Ontario! We provide 24-hour locksmith services 7 days a week (yes, even on holidays!) to London and the surrounding London area, so even when everyone else is asleep, we've got your back. With our fast response time, we will come to you, fully prepared with up-to-date tools and technology to help you regain access to your commercial (and residential) property in no time at all. We pride ourselves on our reliable and effective emergency locksmith services to provide you with a sense of ease knowing that with our 50 years of industry experience we will help protect your assets in an efficient, cost-effective, and professional manner.
What Can D & L Locksmith, London Do For You?
Your safety is our top priority, which is why when our locksmiths arrive at your place of business we always ensure we provide you with an appropriate solution for your commercial security needs and concerns. How do we do this? Our locksmiths make sure your property is secure by first discussing your needs with you and with this information, devise a plan and begin the process to install the best security upgrade option from a variety of top security technologies currently on the market.
24-Hour Emergency Locksmith Services
D & L Mobile Locksmith is your emergency locksmith service in London, Ontario and the surrounding area. We are available to provide service 24 hours a day, 7 days a week and 365 days a year. Our mobile locksmiths are fast, efficient and reliable and will help you immediately. We can open any apartment, home or office door, fix any damage and replace locks.
Security Devices and Systems
Our 50 years of working in the locksmithing business have provided us with experience in a variety of commercial security installations throughout London, Ontario and the surrounding London area including doorknob locks, deadbolt locks and biometric locks; as well as intercom systems, keypad systems, and Closed-Circuit Television Cameras (CCTV); along with mortise cylinders, rim cylinders, door closers, push bars and panic bars, and rolling gates and locks, plus fire exit devices. Don't forget we also install and repair fireproof safes!
We also offer further security by providing 30 levels of master rekey systems and we issue non-duplicate keys for high-security systems. You can rest easy knowing that our high-security locks are bump-proof, pick-proof, and drill-proof.
Our Commercial Locksmith Services Include: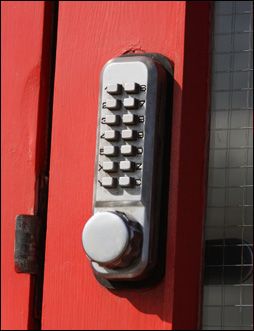 Door Closer Installed
Panic Bars Installed
Exit Devices
Card Reader Locks
Combination Locks
Commercial Lever Handles
Electronic Locks
Adams RITE Locks
Mortise Locks Installed
Entry Locks
Keypad Locks
Replace Mailbox Locks
File Cabinet Locks Installed
Rim Cylinders
High-Security Locks
Deadbolt Locks
Change Locks

Lockout Locksmiths
How Much Is The Average Cost For A Locksmith?
The average cost for a locksmith in Ontario ranges based on what service you require. If you wanted a new set of keys, it will only cost you about $10 or if you want a copy of a key made, the price could be even less. If you require 24-hour locksmith emergency service, the average cost ranges from $100-$200 depending on the kind of lock you have and other safety issues that may be present. The average hourly rate ranges from $50 to $100. For a more accurate price, give us a call for a free estimate of our services tailored to whatever you may need.
Call us today to learn more about the services we offer ranging from a quick lock change to an emergency service. Our business goal is to help you get the best commercial locksmith service and solution fit for whatever you need. We are a 24-hour local locksmith business operating out of London, Ontario providing locksmith service to both London, Ontario and the surrounding London area.
You may call us by phone at (519) 686-2870 to learn more about our 24-hour services and so that we can get help to you in your time of need, or learn about the residential locksmith services we offer because your home deserves to get the same attention and service that you need to feel secure in your own home.