Best Smart Locks For Modern Homes
Are you going on a trip this season? If so, it might be a good time to install a smart lock on your front door. A smart lock is a key-free substitute for the traditional lock. It makes securing your home much more attainable, enabling you to easily lock or unlock your doors from your smart device through an app.
The demand for smart security devices is climbing, so let us present three of the best smart door locks on the market.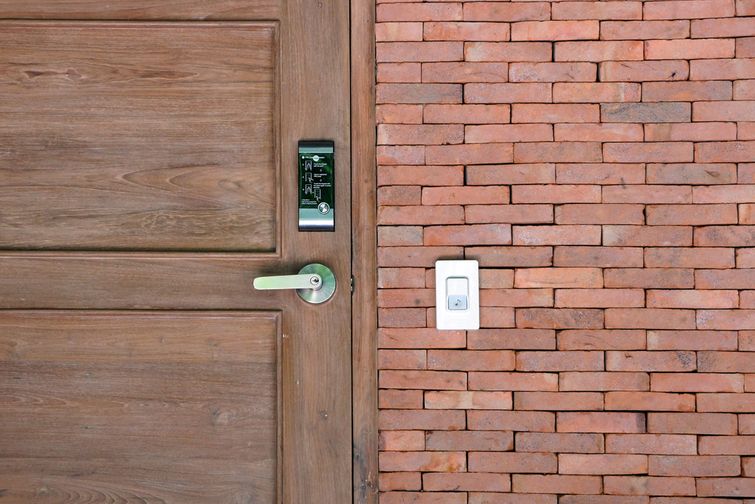 Three Of The Best Smart Locks In 2022
The sleek August Smart Lock is easy to install, user-friendly, and combines many features inside its compact body.
Although this brand has a compelling variety of locks, the August Wi-Fi Smart Lock is a better illustration of how state-of-the-art these products are and the best choice for the security of your home. It offers a small, secure, and hard-wearing design.
The August Wi-Fi Smart Lock works with voice control and is suitable to use alongside Apple HomeKit, Samsung SmartThings, Alexa, and Google Assistant. You can control and manage your lock remotely from your Android or iOS devices when you're not home. It comes with a DoorSense entry sensor alerting you if your door is left open.
Kwikset is the sole lock maker offering SmartKey Security technology that safeguards the homeowners against lock bumping and picking. SecureScreen is an added security feature that shows random digits before you enter a code to unlock the door, so others can't crack your code by fingerprint smears.
These locks work with a smartphone app, but the app relies on the smart home system you have and if there's a smart home hub.
While most models have both a keypad and keyhole, the Obsidian and the Halo Touch have only one.
Schlage is recognized for its robust deadbolt locks. It is sleek, simple, highly safe, and has a built-in alarm. Plus, with built-in Wi-Fi, you can remotely lock or unlock the Schlage Encode from anywhere, and you won't have to pay extra to enable remote access with a smartphone app.
These smart locks work well with various home automation systems like Z-Wave and Zigbee and are compatible with the Ring security system and Google Assistant.
But you won't gain Apple HomeKit compatibility, and you're limited to 100 user codes.
What Is The Best Smart Lock For You?
Here are a few features to look for when choosing the best smart door lock.
Lock Type – A smart lock has two types – deadbolt and lever-style. The former is manufactured to change your existing deadbolt lock, while the latter has the lock and door-opening lever in one. Deadbolts are the most sought-after, but lever locks are currently increasing in popularity.
Remote Management – An excellent smart lock enables users to have your smart lock communicate with other smart devices, allowing them to open and lock automatically, set alarms and change passcodes from a distance.
Fingerprint Reader – Only a recognized fingerprint can open the door with a fingerprint scanner/reader. And this denotes that even if someone is holding the physical key or knows your passcode, they still won't be able to enter your home unless their fingerprint is stored and authorized.
Guest Access – It grants you to give 'keys' to individuals you're OK to let inside your home when you're not at home. Most smart locks also track who enters and leaves, and smart locks with Wi-Fi can send a notification to your phone when someone arrives or leaves.
Smart Home Compatibility – An ideal smart lock has the ability to connect with other smart home devices like smart speakers, smart home hubs, video doorbells, and home security cameras.
Voice Commands – Not all smart locks integrate with all voice assistants, so check if a model is compatible and will work with your voice assistant.
Battery Life – Almost all smart locks work on multiple AA alkaline batteries or a rechargeable lithium-ion cell. However, a few smart locks can even be hardwired to the electricity, suggesting you never have to replace the batteries.
ANSI Rating – Three standard lock designations have been established by the ANSI/BHMA (American National Standards Institute/ Builders Hardware Manufacturers Association) for protection.
Grade 1: the most robust grade, often for those used in commercial applications

Grade 2: the most typical residential lock and is the frequently bought ANSI-approved lock

Grade 3: usually a backup lock to incorporate into the grade 1 or 2 lock 
Can Smart Locks Be Hacked?
Yes! But provided that you're buying a smart lock from reputable developers, the transmissions enabling a hacker to activate the lock must be thoroughly encrypted – making hacking somewhat tricky.
Don't waste time and start securing your premises with one of these locks. 
Installing a versatile smart lock for your home is a pretty straightforward process when using the services of a professional Residential Locksmith, London, Ontario. Get a skilled locksmith by contacting 519-686-2870 now!